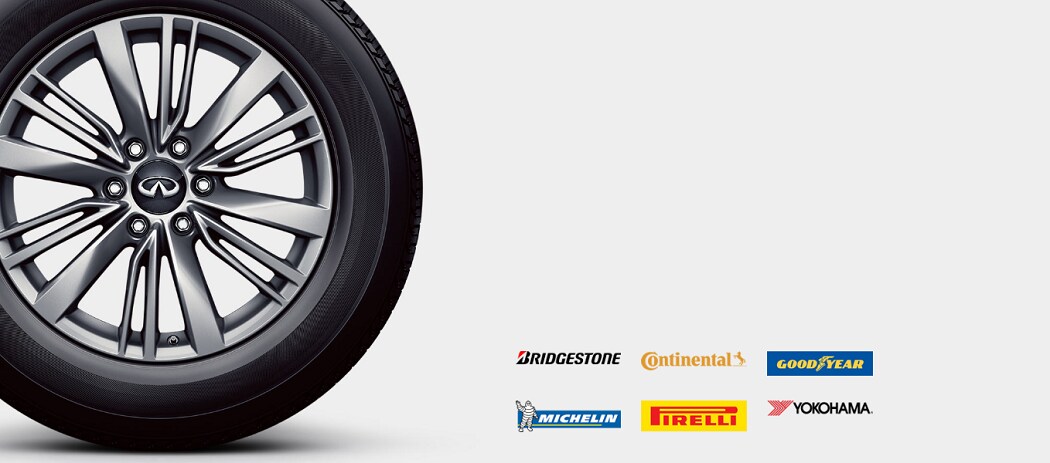 INFINITI Tire and Wheel Centre in Woodbridge, ON
Tires and wheels play a critical role in the overall performance of any vehicle. At Alta Infiniti, we understand the importance of having the right tires and wheels outfitted to your car, saving you from potential accidents or other mishaps on the road. When you need tire service in Woodbridge ON, visit our Tire and Wheel Centre or schedule a service appointment at our Service Centre.
Some general functions of your tires include:
Weight-bearing - Air pressure and tire construction have a direct influence on how tires carry and bear the weight of your vehicle.
Absorb shocks - adequately inflated tires absorb initial road vibrations and shocks.
Distributing power from the engine - your tires distribute power from the engine to move your vehicle.
Handling and steering wheel movement - your tires are very important in controlling the direction of your vehicle, determining your driving stability.

Tire Maintenance and Tire Service In Woodbridge
Worn out tires compromise the ability to handle your vehicle and can impact your braking distance tremendously. Be sure to inspect your tires regularly and keep a lookout for physical signs of damage. If you notice bulges on your tires, we recommend you replace the tires immediately. Bulging tires have an extremely high potential of bursting, placing you and others in harm's way.
Check your tires for uneven tread wear around the edges, indicating improper wheel alignment. To help avoid any alignment issues, have them rotated every so often, as your front tires tend to wear faster. You should also check for any puncture marks caused by nails or other sharp objects on the road. You'll need to get your tire replaced if it is punctured.
Finally, check your tire's air pressure at least once a month. Adjust the air pressure according to the manufacturer's instruction manual to avoid over or under-inflating. Alternatively, schedule a service appointment and allow us to properly inspect, maintain, and service your tires for you.
QUESTIONS ABOUT TIRES AND WHEELS?
Hours
Monday

9:00AM - 8:00PM

Tuesday

9:00AM - 8:00PM

Wednesday

9:00AM - 8:00PM

Thursday

9:00AM - 8:00PM

Friday

9:00AM - 6:00PM

Saturday

9:00AM - 6:00PM

Sunday

Closed