Frequently Asked Questions About INFINITI
Our dealership, Alta INFINITI, has long years of experience serving communities around Woodbridge, including the Vaughan area, Kleinberg, Etobicoke, Brampton, Toronto, Thornhill, among other adjacent towns in Ontario. We have exclusive deals for the new vehicle arrivals in our showroom, and some of them include the INFINITI QX50, QX80, QX60, Q60, Q50, among many others. Our vehicles are of superior quality, and you can make an Online Purchase to get your dream car with outstanding technological features. Contact us to schedule a test drive once you make an informed decision about the specific model that you want. Additionally, complete our online Online Finance Application to get pre-qualified. If you are still hesitant about which brand you want to purchase, kindly view our new INFINITI inventory online for excellent deals. Some of the most common INFINITI vehicles frequently asked questions in Vaughan, Ontario, include:
What is the 2019 INFINITI QX60 seating capacity?
The 2019 INFINITI QX60 has a seating capacity of up to seven people. Standard features include heated and power-adjustable front seats, leather upholstery, heated steering wheel, Nappa leather material knitted on the seats, and ventilated front seats. The seats are placed on the firm side, but they still provide you with the comfort you need. Interestingly, all three rows of seats can contain adults, although they might not want to spend the entire day in the third row. Generally, the seats of the QX60 INFINITI are voluminous, and the cargo space is exquisite.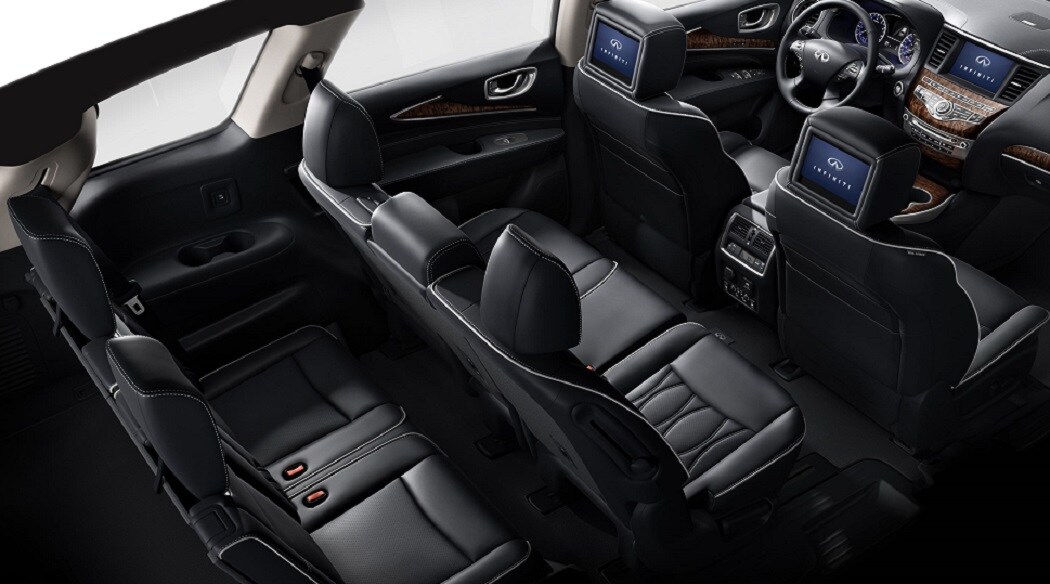 How do I get INFINITI InTouch?
INFINITI InTouch is a touchscreen system that is developed to connect you to important stuff while getting rid of disturbances. INFINITI InTouch is available depending on your vehicle model, trim levels, and year and may include programs like INFINITI navigation, SiriusXM radio, INFINITI connection, and Android Auto. In case you bought a new vehicle, you have a free trial available, and it would be vital if you leverage the benefits of that trial. To get INFINITI InTouch, carefully follow the guidelines below:
Ask your retailer to register you or perhaps complete the registration process in your free time.
Another option is to download the app from the app store.Register/ log in for a myINFINITI Owner Portal Account
Opening an INFINITI InTouch portal account is very simple, and it will only take you a few minutes. Firstly, create an account and include your car to your account and then come up with a strong security pin and activate the INFINITI InTouch mobile and services package to start using the complimentary trial. Finally, download the apps and connect your phone to the car through the INFINITI InTouch services app.
What are the INFINITI InTouch services?
With INFINITI InTouch services, you can make your services private and provide them with the best protection from two levels; INFINITI InTouch services Premier and INFINITI InTouch Services select. Some of the INFINITI InTouch services include: the Infiniti voice recognition tool that enables you to receive calls and send text messages using your voice, INFINITI Automatic Collision Notification, Remote door lock/unlock and My schedule featuring Google calendar.
Can I track my INFINITI?
Absolutely. The INFINITI My Car Finder App helps you track your car from any geographical location at any given time. The device sends signals via a cellular network, although the signal strength may be altered by location.
How do I turn off weather alerts on my INFINITI?
The voice weather alerts may be so annoying sometimes, and I am sure most of you are already tired of it. To turn off the weather alerts on your INFINITI, follow the steps below; Go to settings, then the navigation. Go to Weather and turn off the voice announcements. Leave the on-screen ones because they only exhibit text at the bottom of the map.
Who is the INFINITI car made by?
INFINITI is a luxurious brand of vehicle that was initially manufactured in Japan. The car stems from the famous auto make Nissan and the Nissan Motor Co, a Japanese Automotive industry. The goal was to manufacture a vehicle that is more refined and has excellent performance capabilities. There are currently many INFINITI dealerships, including our own Alt INFINITI, which ensures that customers in the surrounding area get sophisticated INFINITI vehicle brands.
Which is better, a Lexus or INFINITI?
Both INFINITI and Lexus are Japanese vehicle brands with impeccable stylish features, incredible performance, and classy structure s. When we compare the two cars' amenities, it becomes clear that INFINITI leads almost every category. The most recent INFINITI generation is a combination of superior design, advanced engineering technologies, and outstanding performance. At Alta INFINITI of Woodbridge, Ontario, we are very vigilant about the Infiniti car brands that we sell.
How much does an INFINITI truck cost?
The newest INFINITI truck is the INFINITI QX80 in the luxury SUV class. The truck's starting price is $79,998. For more information on the prices, view our QX80 model page to learn more.