Are you looking for a
new
INFINITI in Woodbridge, Ontario? Our dealership has the latest advanced INFINITI cars to meet your driving needs. We serve the cities of Toronto, Brampton, Vaughan Area, Kleinburg, Maple, Thornhill, Etobicoke and surrounding areas. We can help you finance your dream INFINITI - complete our
Online Finance Application
to get pre-qualified, and
Contact Us
to schedule a test drive. You will have your INFINITI in no time.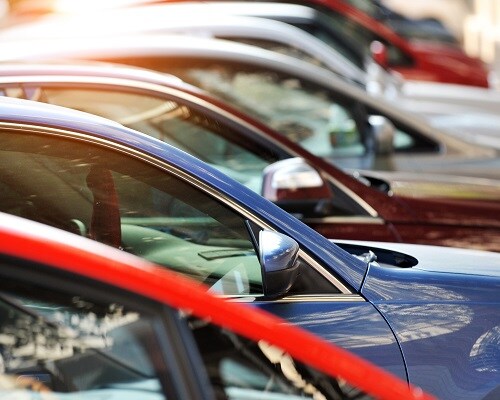 Questions?
* Indicates a required field
About INFINITI Technology

---
Dynamic Digital Suspension (DDS)
This technology monitors INFINITI cars' body roll, bounce rate, and pitch to keep you safe on the road and deliver agile handling. INFINITI pairs the system with adjustable dampers that ensure the ride feels smooth regardless of the terrain in which you drive. You can customize the suspension based on how much damping force and noise cancellation you need. From DDS, you can select Soft or Firm drive modes.
Q50 Direct Response Hybrid
The Direct Response combines a gas engine, an electric motor, and a lithium-ion battery to deliver a perfect balance of power and fuel efficiency. In the INFINITI Q50, that combination of technologies delivers 360 horses and raises the fuel economy to 6.92 litres per 100km on the highway.
Q50 Intelligent Key
This is a system that personalizes your car. You only need to have the key in your pocket or pulse. Press the right switch on the car's door handle, and the car automatically adjusts to your personal preferences. The key can even start your engine while still in your pocket. Some of the aspects the key controls include stereo presets, drive modes, navigation, steering wheel, display screen, side mirrors, and climate settings.
Infiniti Technology keeps you safe on the road and offers you convenience when you need it. You can view our new INFINITI inventory online today and pick a car that keeps you safe. Feel free to Contact our product advisors if you have any questions.
Forward Emergency Braking
This system monitors the cars, pedestrians, and other items around you. INFINITI uses advanced tech to detect the probability of a collision and engage the brakes.
Lane Departure Prevention with Active Lane Control
Lane Departure Prevention detects when you drift off the lane you are travelling, warns you, and helps you get back to the lane. The system can engage the brakes after the warning to help you get back on your lane to keep you safe on the road.
Predictive Forward Collision Warning
This system calculates the likelihood of a forward collision using cameras and sensors and advanced technology. It can detect the velocity of two cars in front of your INFINITI to help you avoid a collision. If the car detects the likelihood of a collision, it engages other technologies such as Forward Emergency Braking to keep off the collision area.
Direct Adaptive Steering
Also referred to as the digital steering, the system gives you more control of your vehicle by severing the mechanical link between tires and steering wheel. The system then adjusts your use of the steering wheel up to 1000 times to give you more control.
Blind Spot Intervention System
This system shows you vehicles in your blind-spot and helps you avoid a collision. It gives you an audio and visual warning and can even engage emergency braking to keep you from a collision.
Around View Monitor
This is a camera system that shows everything around your vehicle. It goes further to detect moving objects around the car. It gives an audible warning if you are about to back into a stationary of moving objects.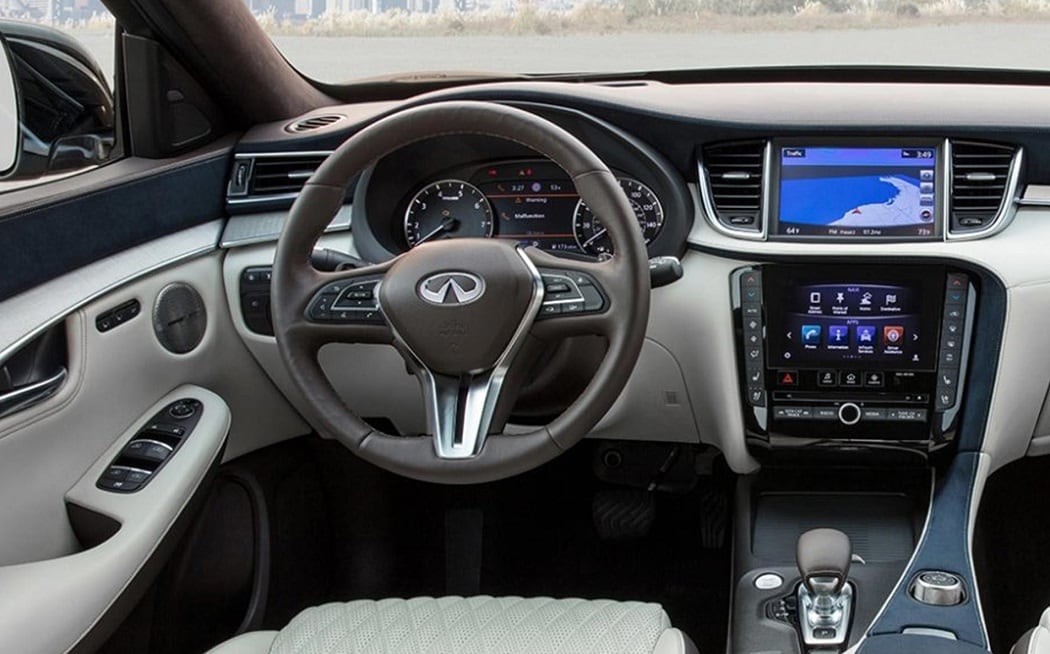 Intelligent All-Wheel Drive
Intelligent All-Wheel Drive sends power to wheels that need it the most, for optimal performance and fuel economy. It adapts to the road's condition by monitoring throttle position, wheel spin, and vehicle speed to keep you driving even on rough terrain. When you need more traction, the system sends power to the front wheels; when you do not need an all-wheel drive system, power shifts to the rear wheels for performance and fuel economy.
Lane Departure Prevention (LDP) and Intelligent Cruise Control
This system helps you stay on your lane by actively preventing you from unintentionally drifting from your lane. If you drift outside your lane, the car gives an audible warning. It can selectively apply brakes to move you back to your lane. Intelligent Cruise Control monitors the traffic to slow or speed up your car based on the traffic. If traffic slows down, the system slows down your car.